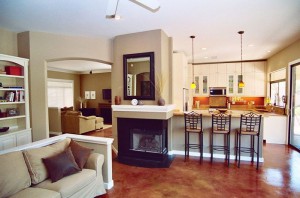 One of the most common questions that homeowners have before listing their Portland Oregon Homes For Sale is "why should I stage my home if it's already decorated?".
Although you may have spent a lot of time and money on decorating your home the reality is that decorating is different than staging a home and it's important to stage your home to sell especially if you want your home to stand out from other Portland Oregon Homes for Sale.
Before Staging Your Home Do This
Although you may be eager to stage your home for sale right now the reality is that you have to get your home ready for sale by doing the following:
De-clutter your home – Start with one room at a time and create piles for the items you plan on keeping, throwing away and donating.
Clean your home thoroughly – Start by cleaning the outside of your Portland Oregon Real Estate with a power washer and then work your way into your home be cleaning the windows.
Clean all  carpets and flooring – Hire a professional cleaning company to clean the carpets and flooring. When the flooring is being cleaned you should also ask if the same   company can clean your couches and upholstery as well.
Simple Staging Tips
When staging your Portland Oregon Real Estate for sale it's best to stage your home by following these simple tips.
Tip #1 – Remove the clutter from each room, including the kitchen, by putting away items that you may not be currently using regularly.
Tip #2 – Don't replace your old shower, instead focus on scouring it with a combination of water and vinegar.
Tip #3 – Remove all items from your bedroom that have you personal "stamp" on them like your favorite pillows because your goal should be to make your bathroom gender neutral.
Tip #4 – If your home has a fireplace you should highlight it by scrubbing it down thoroughly and investing in a color enhancer for the brick or stone around your fireplace if they are faded.
Contact EquityPoint Real Estate
To learn more tips you can use to stage your Portland Home contact EquityPoint Real Estate today by connecting with us online or by calling (503) 595-8800.